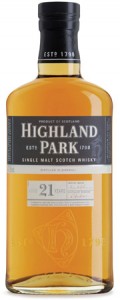 With all the Single Malt Scotch Whiskies that are available it can be slightly complicated to try and determine which whisky is best, or which whisky you'll like best.  Why not let the experts lead by example?
At this year's World Whisky Awards a fantastically representitive list of the best whiskies divided in to area categories have been established and suffice to say there are a few spanners thrown in for good measure.
The overall winner, ergo, the best single malt scotch whisky of 2009 is the Highland Park 21 Year Old.  Described as "An irresistible mix of dark grungey smoke and light sweet fruit. If you could barbecue a tin of Del Monte exotic fruits this is what it would taste like. Stunning".  It becomes clear why it has achieved this year's best accolade in the whisky industry and no doubt why sales have increased dramatically as a result.